For a nice day out, see Places To Go


NEXT COUNCIL MEETING
See the Council page for the next council meeting.
---
THE BLACK LION PUBLIC HOUSE.
EVENTS.

No Events Sent to Us Yet Watch this space for when Keith pulls his finger out.
ALSO AT THE BLACK LION:
ACTIVE SPORTS NIGHTS - DARTS (Ladies, Gents &Mixed)- POOL - BOWLS - FOOTBALL - CRIB - DOMINOES.
CONTACT KEITH OR KAREN ON (01603) 279313.
NEW! Black Lion Music Club.

See our entry in the Food & Drink page for contact details.
---
OLD EVENTS

---
The next lot is old stuff which I haven't bothered to take off yet.
Actually, I am tempted to leave it on so visitors can see what a varied range of activities we get up to!
First Aid Course


run by St John Ambulance,
Aylsham

First Aid Course (Basic & Emergency) 
9.30am to 4pm 
Saturday 26th January 2008 
Aylsham Youth & Community Centre 
Cost: £15 per person - payable in advance. 
Please telephone to book your place 
Margaret Gilham 01263 733501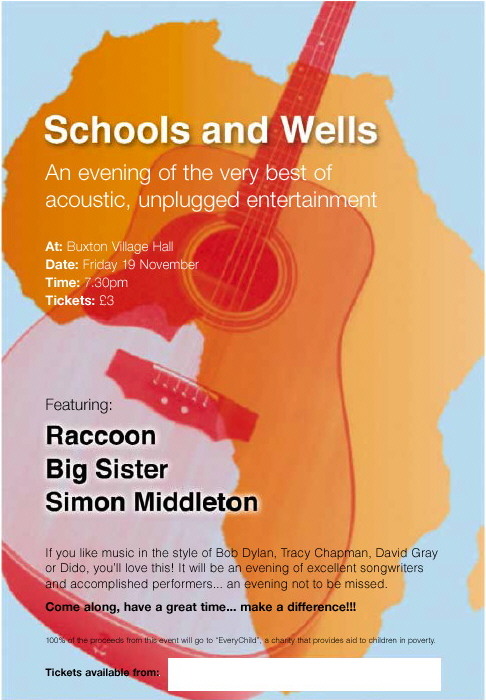 Schools & Wells
An evening of live acoustical music.
Buxton Village Hall.
Friday November 19th 7:30pm &pound3:00
Do you enjoy live, acoustic music? If so, come along to Buxton Village Hall on November 19th, at 7.30pm, where you will find various local performers putting on some unplugged entertainment in aid of UK Charity EveryChild.
EveryChild work with children & communities worldwide, to ensure that every child has the right to an education, healthcare, and to grow up in a loving family environment with a secure future. Take Malawi for example: many people have never heard of this small country, sandwiched between Mozambique, Zambia and Tanzania, because there are no wars, no refugee camps and no newsreel pictures of dying children. Yet Malawi is one of the poorest countries in the world: average life expectancy is just 37 years; infant mortality is over 11%; almost half the population is under 15, because so many of the 20-40 year olds the mums and the dads are being killed by HIV/AIDS.

For several years, Buxton couple Bob & Viv Goddard have sponsored a little Malawian girl called Tamala, through EveryChild. This summer, they went to Malawi to see how their money is being spent, and whether it's making a permanent difference in the lives of Tamala and her friends. They were hugely impressed by the work being done by the locals for themselves, with the help of EveryChild. Inspired by what can be achieved with relatively small sums, Bob & Viv came home determined to do more: to fund a new school building in Tamala's village; and to drill a new borehole & fit a pump for the local pre-school to save the toddlers, teachers and mums having to carry their drinking water 3 miles every day on buckets on their heads.

And that's where our Acoustic Music Evening comes in. The line up includes Norwich singer-songwriter Simon Middleton, Norwich-based band Raccoon, and Buxton Covers Band Big Sister. The music will be a mixture of cover versions of artists such as Bob Dylan, Tracey Chapman, Dido, Avril Lavigne, and some of the artists' own songs. And somewhere in the middle of all that, Bob will tell us more about his and Viv's trip to Malawi. Teas, Coffees, and Cakes will also be on sale between sets.

Tickets are priced at £3.00.
100% of the proceeds will go towards the charity, and tickets are on sale from Powell's Country Stores in Buxton or available on the door on the night (subject to availability).
We'd love to see you there, so come along, have a good time, and help us make a difference!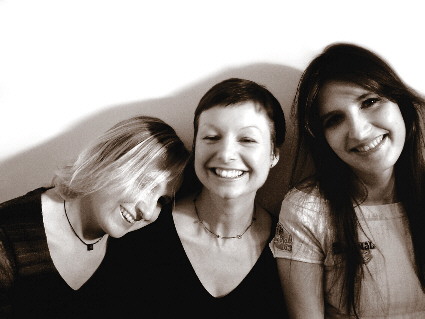 "Big Sister"
Colt Bowl
in association with
RAF Coltishall Youth Bowling Club
present
The 5th Annual Christmas
Handicap Adult-Junior
Scotch Doubles Re-entry
Tournament!
Sounds complicated doesen't it but really it isn't.
It is set up as a fun tournament with a bit of a competitive edge to it.
Qualifying is on 29th or 30th November or 6th or 7th December.
We hope to start with 48 teams of one bowler over 18 and one under 18 who will bowl 6 games of scotch doubles.
After this there is a cut - the top 2 go straight to the round robin final,
whilst positions 3 to 26 take part in knock out rounds to get them down to 6 who join the others in the final.
Entry fee is £16.00p for which you could end up bowling 17 games.
There is a little prize money and some doody trophies to win at the finals weekend on 13th and 14th December.

Colt Bowl & RAF Coltishall YBC
For further Info:
Email: REMOVETHISFIRSTkevcoltybc@aol.com
Phone: 01603 278013



FILM QUIZ
In support of the East Anglian Air Ambulance

What film title is represented by this clue -- 'Clarence hears the bell ring'?

Yes, at last, after a 3-year wait, another amazing film quiz is waiting to challenge your grey cells!
This time the supported charity is the East Anglian Air Ambulance which will receive ALL proceeds.
Those of you who live locally can obtain entry forms for the ridiculously low donation of £1-00 (or more!) from the supportive proprietors at the Mace shop, Fish & Chip shop or Post Office - all here in Buxton.
It occurred to us that film buffs who live elsewhere in our region might like to try their luck so if you care to e-mail airquiz@aol.com, we will, in return, tell you how you can participate.

1st Prize-£25,
2nd Prize-Hollywood Cinema tickets,
3rd Prize-£5.
Don't forget, the Air Ambulance has already saved many lives. Let us help to keep it flying.
Saturday 14th June
Jumble Sale
at
Buxton Village Hall
2:00 pm.
in support of Macmillan Nurses.

WANTED!
More clean jumble, books, bric-a-brac, toys, furniture (smallish), etc.
If you have any clean jumble please call (01603) 279441 or 278147 for collection.
All proceeds will go to Macmillan Nurses
www.macmillan.org.uk
SUNDAY 13th JULY.
Buxton Extravaganza

Buxton Village Hall/Rec. 1:30 pm.

Arena Displays

More to be arranged...


Justso James
Childrens Entertainer / Races.

Dog Agility Team


TUG O' WAR

GRAND RAFFLE

Sideshows, Stalls, Beer Tent, Barbecue, Bouncy Castle, Refreshmants, Static Displays
Something for all the family.

Proceeds to the community: BALAY Youth Hall and the Village Hall.


Sunday 13th July 2003.
Village Hall / Recreation Ground
King Street Festival.
Norwich
10th May 2003
11.30am till 6.00pm
5 stages inc BBC radio norfolk stage.
120 stalls last year
arts, craft, childrens entertainments, and much more.
free entry
for stall bookings tel: jill ransom 01603 756794
---
THE BLACK LION PUBLIC HOUSE.
EVENTS.

Aug 27th Family BBQ
Sept 1st - Karaoke
Sept 8th - Back Track (60s - 90s disco) (THAT'S NOT THE AGE GROUP!)
Sept 22nd - Disco

Oct 6th - Tim Ballard (male vocalist)
Oct 13th - Disco
Oct 20th - Roosters. R&B at its best.
Oct 27th - Buxton FC - Race Night.

Nov 3rd - Family Fireworks (Contact Black Lion for more details).
Nov 10th - Disco
Nov 17th - Purple Ronnie (Rockin' Guitarist)
Nov 24th - Faith - Rock & Soul band.

Dec 1st - Buxton FC - Xmas Disco
Dec 8th - Gary Leonard. Cabaret Singer.
Dec 15th - Sebastion
Dec 22nd - Gerrard & Janie
Dec 24th - Xmas Eve Binge
Dec 31st - Disco & PartyNight
Merry Xmas and a Happy New Year to all
from Karen & Keith

See our entry in the Food & Drink page for contact details.
---
Wed 20th March at 7.30 p.m.
Buxton Village Hall

B.A.L.A.Y.
(BUXTON AND LAMMAS AREA YOUTH)
A.G.M.
New Youth Hall
We are inviting you to the above meeting so that you can find out about our progress to date now that we have planning permission subject to agreement of final details. We will try and answer any questions you may have about this development and update you on the many new exciting opportunities that have recently arisen. We are committed to the hundreds of young people in our villages who need somewhere of their own. We are very lucky to have thriving Scout and Guide groups and Youth Football Clubs, but there could be much more for our youngsters. Both young and old, please show your support for this project by coming and joining us for a cup of tea or coffee. Everybody very welcome.
BALAY COMMITTEE
Proceeds to B.A.L.A.Y. for the New Youth Hall.
LISTEN
for the Sound of Sleigh Bells

Adults without children are welcome to join us for a drink and a mince pie.
WATCH
for the Reindeer Hoof Prints



is coming to visit us again this year!!!







THE BUXTON GANG SHOW
Friday 16th and Saturday 17th November.
Buxton Primary School.
7:30 pm


Buxton Primary School is due to echo to the strains of "Riding Along on the Crest of a Wave" and other familiar songs as the local Brownies, Guides, Beavers, Cubs and Sea Scouts of Buxton, Coltishall and RAF Coltishall "gang" together with Buxton Youth Football Club for an evening of entertainment on Friday 16th and Saturday 17th November.

This biannual event starts at 7.30 p.m. and tickets are available from Powell's Country Stores in Buxton, Vereen Marcer on 01603 279457 or Tricia Baker on 01603 278013 priced £3 for adults and £1 for children and if previous concerts are anything to go by don't leave it till the last minute to buy your ticket!

Proceeds from the Gang Show will go towards the new Youth Hall project in Buxton which is due to proceed shortly now that the land has been acquired by BALAY and the local Parish Council - the culmination of much hard work by the B.A.L.A.Y. Committee (Buxton and Lammas Area Youth) over the last nine years in raising not only money but the profile of this much needed asset.

STOP PRESS - Dress rehearsal held Friday 9th confirms that we are in for another entertaining Show and this year the content is very much the children's choice. Some items also portray their concern for peace throughout the world which is what the family of Scouting and Guiding has been promoting for nearly a century!

Further information from:
Vereen Marcer, Group Scout Leader and BALAY Committee Member
01603 279457 (home)
01603 748931 (work).





Childrens Disco Buxton School Hall.

6-7:30pm for Children in years R,1,2 & 3
7:30-9:30pm for Children in years 3 to 8.
Year 3 children can attend either session.
£1.50 admission
Refreshments available

Saturday 10th November 2001.




OPEN AIR BASH
(All events will be under canvas).

Saturday 15th September 2001 at
The Old Red House, Buxton.

Dance the Night Away with
"The Beat Doctors"
&
"Rumour Has It Roadshow".
7.30 pm. till Late.
Hog Roast with Veggie Option.
Licensed Bar, Raffle, Tombola.

Event being held to support the Huntington's Disease Association.
Admission Strictly Ticket Only @ £10 per head, including food.

Tickets available from:
Colin 01603 279691
Kay 01603 278147
Hazel 01263 734091






EVENTS FOR JULY
2nd
3rd
4th
6th
10th
12th

15th

16th
18th
25th
26th
30th

7.45pm
10:30am
2:00pm
7.45pm

2:30pm
7:30pm
1:00pm
1:00pm

1:30pm
2:30pm
7:30pm
Buxton Photographic Club, Buxton Village Hall
Brampton Knitting Circle, Avandix, Crown Road
Silver Lining. 4 Stracey Road
WI Coffee & Cakes, Linden House, Crown Road
Deadline for ads in Round
Good Companions. Buxton Village Hall
WI Meeting. Buxton Village Hall
Buxton Extravaganza, Buxton Village Hall & Rec
Photographic Club Exhibition, Buxton Village Hall
Last day of copy for August/September Round
Open Door Lunch, Buxton Village Hall
Baby & Toddler Group
Good Companions. Buxton Village Hall
Parish Council Meeting. Lammas Village Hall
SUNDAY 15th JULY.
Buxton Extravaganza

Carnival Parade around Buxton
1:00 pm.
Floats, cars & walkers to meet at 12:30pm at Towns End, Norwich Road, Buxton.
Arena Displays
1:00pm
Buxton Village Hall/Rec.

Justso James
Childrens Entertainer / Races.

Dog Agility Team
Plus 'Have a go' session.

Footnotes
Dance Display

Karate
Display of Martial Arts.

Youth Football Club
Skills Display

TUG O' WAR
Age groups:
(a) 13-16 years.
(b) 17 years & over.
Forms in Powells Country Stores - £5 per team.
Or contact Jackie Price c/o Buxton School, or Colin Phillips on 01263 731197.

Tub O' War final: 4:00pm
Grand Raffle Draw: 4:30pm
Flying Ducks Released: 5:00pm
Ducks can be bought in local shops and through Youth Groups, e.g. Guides & Scouts.

Sideshows, Stalls, Beer Tent, Barbecue, Bouncy Castle, Refreshmants, Static Displays
Something for all the family.

Proceeds to the community: BALAY Youth Hall and the Village Hall.


Sunday 15th July 2001.
Village Hall / Recreation Ground
---
THE BLACK LION PUBLIC HOUSE.
EVENTS.

May 26th - BACKTRACK : 60s - 90s Music.
June 9th - Disco
June 23rd- Music with Sebastion
July 7th - R & B with THE ROOSTERS
July 14th- Disco
July 21st- Gerrard & Janie - Soul Music at the Black Lion
July 28th- BBQ & Social Event for EAST COAST TRUCKERS (Childrens Charity Event) followed by MUSIC BY OBSESSION - 70s, 80s, 90s.

See our entry in the Food & Drink page for more info.
---
Buxton FC
League Cup Final

Come and give your support.

May 12th KO 6:00 pm. Venue TBA

Rosie Glow and the Gloworms.
OLD TIME MUSIC HALL
Tickets Now Available
Adult : &pound 5.00
Child : &pound 3.00
Includes
FISH AND CHIP SUPPER

Saturday 19th May 2001.
Village Hall 7:30pm
All proceeds for Village Hall Funds.
Tickets from Val (279348) or Yvonne 279460 or at Powells Country Stores.

Buxton Playgroup's
May Fayre.

Sidestalls, beer tent, tombola, food, raffle, all the usual fun.
This year we will carry on into the evening, 2 live bands & beer tent.
If you would like to book a craft stall for £5, contact Sharon on 279739


Sunday 13th May 2001.
Village Hall / Recreation Ground
Family Ticket £3 for evening.
Jumble Sale
Buxton School

Everyone welcome.

Saturday 31st March

Annual Parish Meeting
Village Hall, Buxton

Contact The Clerk, Roz Rose, on 279576 or Email bwlpc@lamas.force9.co.uk if there is anything you wish to put on the agenda.
There will be a talk by PC Brian Moore on football commentating, er no sorry, Crime Prevention & drugs issues, so please come along and support the meeting.

23rd April 2001 at 7:30pm
This clashes with Lammas Village Hall AGM below. That's planning for you.
Lammas Village Hall AGM
Village Hall, Lammas

Everyone welcome.

23rd April 2001 at 7:45pm
This clashes with Buxton Annual Meeting above. That's planning for you.
Childrens Disco Buxton School Hall.

6-7:30pm for Children in years R,1 & 2
7:30-9:30pm for Children in years 5 to 8.
Refreshments available

Saturday 10th February 2001.

JUMBLE SALE.
In aid of St Andrew's Baby & Toddler Group

Buxton Village Hall 10:30 - 1:30pm
Saturday 10th February 2001.
JUMBLE NEEDED!
Please bring jumble to the Village Hall at 9:00am on the day, or if collection required please ring Christine on 279345 or Stracey on 279334

OPEN EVENING AT BUXTON PRIMARY SCHOOL.
Come and visit your local village School between 3:00pm and 6:00pm
All welcome.
Monday 12th February 2001.

1st BUXTON LAMMAS SEA SCOUTS
JUMBLE
SALE
Jumble
Bric-a-brac
Raffle
Refreshments
CakeStall

Jumble should be brought to the Village Hall between 7:30 and 8:30 the day before the sale, or contact one of the given numbers to arrange for collection
Penny Rischmiller - 01603 279441
Monica Clutterbuck - 01603 279710
Vereen Marcer - 01603 279457

Saturday 24th February 2001. 10:00 am
The A Team
The
JIMMY
CRICKET
Laughter Show.


Tickets Now Available
&pound15.00
Full Buffet
Glass of Wine
There will also be a bar.

Friday 2nd March 2001.
Village Hall 7:30pm
This is the LAST EVER fundraising event for the A Team, and as well as raising money for the East Anglian Air Ambulance it will double as a celebration of 15 years of fundraising.